Florida Plants
Florida Wildflowers
Landscape Plants
Florida Habitats
Florida Wildlife
Reference
Native Trees & Shrubs of Florida
Native Trees & Shrubs - 1 2 3 4 5 6 7 8 9
Click any image for a larger version
Four-petal St. Johns Wort - Hypericum tetrapetalum Lam.
Family - Clusiaceae
Habitat - Wet Pinelands
Description - Native. Evergreen shrub to 3 feet tall, with narrow growth form. Leaves are opposite, ovate, clasping, heart-shaped at base.
Flower - Yellow, four petals, 3 cm. across with numerous stamens.

Sandweed, Peelbark St. John's-wort - Hypericum fasciculatum Lam.
Family - Clusiaceae
Habitat - Pineland depression marshes, Wet Prairies, Swamp margins.
Description - Native shrub, 4 foot average height, leaves linear to almost needle form with rolled under edges. Yellow 5 petal flowers with many stamens, flower petals forming a pinwheel shape. Blooms year-round.

Coastalplain St. John's-wort - Hypericum brachyphyllum
Family - Clusiaceae
Habitat - Wet Flatwoods, Wet Prairie, Marsh, Bog
Description - Perennial shrub 2 -3 feet in height, leaves opposite, linear needle-like with the margins being turned under. Yellow, 5 petal flowers in summer and fall.

Roundpod St. John's-Wort - Hypericum cistifolium Lam.
Family - Clusiaceae
Habitat - Wet Pinelands, Bogs, Marshes, Margins of swamps
Description - This shrub is one of about 29 Florida native Hypericum species.
2 - 3 feet tall with branched terminal clusters of yellow flowers produced year-round. Dark green shiny lanceolate leaves.
Gray Nicker - Caesalpinia bonducL.
Family - Fabaceae
Habitat - Coastal Strand, Coastal Hammocks
Description - Native perennial vine or shrub with spiny stems to 2 inches in diameter and 15 feet or more in length. Compound, shiny green bipinnate leaf with each leaflet up to 2 1/2 inches long.
Flower - Yellow, 1 inch, 5 petal flowers produced in clusters. Fruit is a 4 inch, flattened spiny pod, brown when mature which splits to reveal 2-3 round hard 1 inch seeds.

Sea Lavender, Sea Rosemary - Argusia gnaphalodes
Family - Boraginaceae
Habitat - Coastal Strand, Dunes
Description - Endangered Florida native perennial shrub to 6 feet tall with an equal or greater spread. Leaves are succulent, linear to slightly spatulate & greenish-gray in color.
Flowering year round, flowers emerge white with green throat, changing to a pinkish lavender.
American Sycamore, American Planetree - Platanus occidentalis
Family - Platanaceae
Habitat - River floodplains, Bottomland forests
Description - Usually thought of as a northern tree, Sycamore is a Florida native tree & has been documented in the wild south of Lake Okeechobee and is used as a landscape tree as far south as Martin county. Long lived & fast growing to a height of 170 feet, Sycamore prefers moist to wet soils. Leaves are alternate, simple, ovate with 3-5 lobes and coarsely toothed margins. Bark is scaly, white and the trunk is greenish in young trees.

Queensdelight, Queens-delight - Stillingia sylvatica L.
Family - Euphorbiaceae
Habitat - Pinelands, Sandhill, Scrub on sandy, acidic soils.
Description - Native herbaceous perennial to about 3 feet in height. Queensdelight has the form of small shrub with multiple stems, leaves are simple, 2-3 inches long with dentate margins, somewhat variable, elliptic to slightly oblanceolate with acute or acuminate apices, sometimes almost linear. Yellow flowers on an inflorescence, fruit is a three sided capsule. This plant can cause rashes on skin contact.

Water Toothleaf, Corkwood - Stillingia aquatica
Family - Euphorbiaceae
Habitat - Marshes, swamps and wet prairie
Description - Native perennial, subshrub/shrub. 2 - 4 feet in height, tends to be spindly with sparse foliage concentrated at tips of branches.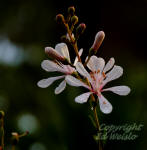 Tarflower, Flycatcher - Bejaria racemosa
Family - Ericaceae
Habitat - Common medium to large native shrub of Flatwoods & Scrub habitat, on a variety of soil types.
Description - Native drought tolerant perennial shrub, 4 to 8 feet tall with stiffly upright branches. Leaves are 1 to 2 inches long, 1/4 inch to 1 inch wide, with a waxy upper surface and entire margins and often curled or with wavy margins.
Flower - Conspicuous, fragrant white & pink flowers are produced from the spring through fall, fruit is a round capsule. Both flower and fruit are sticky and frequently trap insects, a trait which gives this shrub its common names. Butterflies feed on nectar.
Native Trees & Shrubs 1 2 3 4 5 6 7 8 9