Click any image for a larger version
Dog Fennel - Eupatorium capillifolium
Family - Asteraceae
Habitat - Margins & openings of forests, dry to moist prairie, margins of marshes.
Description - Tall semi-woody herbaceous perennial to seven or more feet tall, usually with several long straight stems. Leaves are finely dissected and liner or thread-like in appearance. Dog Fennel produces dense paniculiform or panicle-like arrays of small white flowers from summer through fall.

Pineland Daisy, Wooly Sunbonnets - Chaptalia tomentosa
Family - Asteraceae
Habitat - Wet Pinewoods
Description - Florida native wildflower, perennial, herbaceous plant 12-18 inches tall when flowering. Basal rosette of elliptic to obovate leaves with entire, sometimes undulate margins.
Flower - 1 1/4 inches wide with numerous white rays, backs or undersides of flower are tinged pink.

Swamp Lily, Seven Sisters, String Lily - Crinum americanum
Family - Liliaceae
Habitat - Streams, creeks and marshes.
Description - Native perennial, herbaceous emersed plant with spreading, leathery, linear leaves to 4 feet long, frequently with a purple or reddish tint.
Flower - Clusters of 6 petal, tubular, white or white/pink fragrant flowers are produced on a separate cylindrical succulent stalk throughout the year.

Alligator lily - Hymenocallis palmeri
Family - Amaryllidaceae
Habitat - Swamps, Marshes, Wet Pine Flatwoods, Wet Prairies
Description - Native Florida lily, Alligator lily is a herbaceous perennial 2 feet or less in height which is also endemic to Florida. Alligator lily blooms in the summertime, producing its distinctive white flowers on stalks which more often exceed the height of the succulent, strap-like leaves.

Musky mint, Clustered bushmint - Hyptis alata
Family - Lamiacaea
Habitat - Wet pinelands, wet prairie.
Description - Native perennial, Forb 3 to 4 feet high.
Flower - White, arranged in dense clustered heads 1 1/4 inches across.
Spanish Needles - Bidens alba
Family - Asteraceae
Habitat - Very common to pinelands, scrub, dry prairie, costal strand, road sides.
Description - Native. Annual, Perennial, Forb, Herb. 1 to 3 feet in height, sometimes taller.
Flower - White, 1 inch in diameter, yellow central disk.

Blackroot - Pterocaulon pycnostachyum
Family - Asteraceae
Habitat - Dry open Pinelands, Sandhill
Description - Native, perennial forb, herb, 1-2 feet in height, often solitary or in scattered, small populations. Silvery pubescent stem, slender, linear green leaf with white mid-vein.
Flower - White, showy compact spike of rayless flower heads, often tinged pinkish-purple at tip.
Alligator weed - Alternanthera philoxeroides
Family - Amaranthaceae
Habitat - Usually grows as an immersed plant along edges of freshwater creeks, ponds and wetlands where it may form dense mats. Occasionally found on dry land.
Description - Introduced perennial herb to about 3 feet tall with a rank habit of growth, erect, trailing or spreading form.
Flower - White with a papery appearance, produced on stalks.
Moonflower, Tropical White Morning-glory - Ipomoea alba
Family - Convolvulaceae
Habitat - Mesic Hammocks, margins of Mangrove Swamps, fresh and salt marshes.
Description - Native, fast growing annual herbaceous vine. Climbs by twining, milky sap. Leaves are ovate to nearly circular in shape with a cordate base. Grows best in moist soils with full sun.
Flower - Fragrant, white funnel shaped to 5-6 inches in diameter, evening bloom lasts until the following morning.
Bog White Violet, Lance-leaf violet - Viola lanceolata
Family - Violaceae
Habitat - Swamps, Bogs, Wet Pinelands
Description - Florida native perennial herb, 3-6 inches tall. Leaf form is variable, generally lanceolate leaves to 4 inches long, margins entire, smooth with the flower stalks rising above the basal leaves. Found growing in bogs, marshes and other wet sandy soils.
Flower - White, about 1/2 inch across, width varies, with brownish purple veins or striations on the lower petals.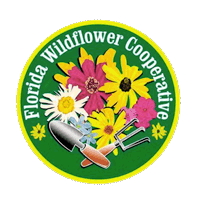 White Galleries - 1 2 3