Click any image for a larger version
White-top Aster - Oclemena reticulata
Family - Asteraceae
Habitat - Wet Pine flatwoods, other moist areas
Description - 1 1/2 to 2" flowers with white petals surrounding a yellow central disk. Leaves are variable in shape, sessile or nearly so, elliptic to obovate & pubescent.
White-top Aster is a common Florida native plant that blooms from spring though fall & grows to about 3 feet tall.

Hammock Snakeroot - Ageratina jucunda
Family - Asteraceae
Habitat - Hammocks, Pine Flatwoods
Description - Herbaceous wildflower to 3 feet tall, leaves are alternately arranged, lanceolate with deeply toothed margins. Moist, sandy soils in full sun or lightly shaded areas.
Purple Thistle - Cirsium horridulum Michx.
Family - Asteraceae
Habitat - Pinelands, Prairies, well drained sandy soils
Description - Large basal rosette, broader than tall. 12-18 inches in height, to 3 feet or more when in flower. Spiny leaves.
Flower - 2-3 inches across ranging in color from purple to pink or white. Host plant for many butterfly and insect larvae.
Southern Fleabane, Oakleaf Fleabane - Erigeron quercifolius
Family - Asteraceae
Habitat - Pinelands, prairies
Description - Native herbaceous perennial, 3 inches to 3 feet in height. Leaf and stems hairy. White to lavender flower, 3/4 inch in diameter with many fine rays surrounding a yellow central disk.
Tenangle Pipewort - Eriocaulon decangulare
Family - Eriocaulaceae
Habitat - Bogs, Marshes, Wet Flatwoods
Description - Linear leaves 10-40 cm. long form a basal rosette, white flowered
hemispheric to nearly globose

i

nflorescences

on a scape to 3 feet tall.
Frostweed, White crownbeard - Verbesina virginica L.
Family - Asteraceae
Habitat - Present in most upland habitats with the exception of Scrub.
Description - Florida Native plant to over eight feet high, this plant may grow as a biennial or a perennial. Also called Indian tobacco by some it was apparently used by Native Americans and early settlers as a Tobacco substitute. It gets the name "Frostweed" from the formations of ice that occur from the bases of split stems after the first frost.

Spring Ladiestresses - Spiranthes vernalis
Family - Orchidaceae
Habitat - Marshes, Wet Flatwoods & Freshwater swamps throughout Florida.
Description - Grows to 25 inches tall and in spite of its common name this plant often blooms well into the summer months. Other common names include Grass-leaf Ladies Tresses and Narrow Leafed Ladies Tresses. 25 - 50 flowers are on inflorescences and are densely arranged in a single ranked formation, one sided or spiraled around the stalk. Flowers are under just 1 millimeter in diameter, tubular, white to cream colored with a yellow center. Flower petals have wavy to somewhat "ragged" appearing margins.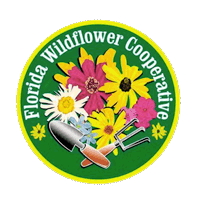 White Flower Galleries 1 2 3